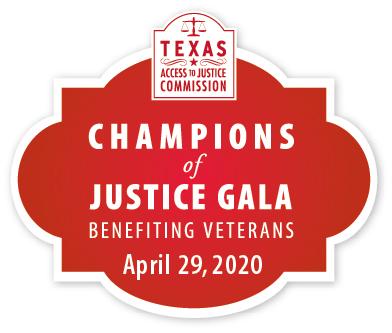 Mark your calendar! The 11th Annual Champions of Justice Gala Benefiting Veterans will still be held Wednesday, April 29, 2020 in a virtual setting.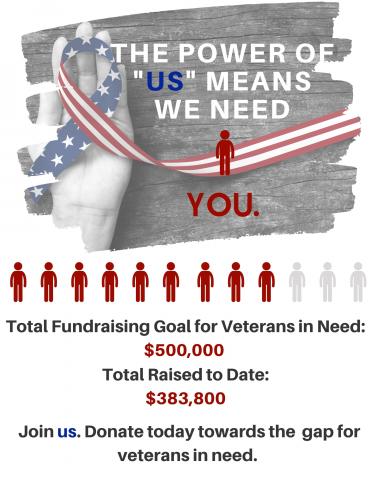 Due to the spread of COVID-19 and concerns for the health and safety of all, the Texas Access to Justice Commission will not be holding a physical gathering for the 2020 Champions of Justice Gala Benefiting Veterans.
Unfortunately, now, more than ever, our veterans need our help. We are in the midst of a global public health pandemic and our most vulnerable neighbors are at risk. Indeed, in a public health crisis, low-income families are often disproportionately affected, and sadly, many veterans fall into this category. As you can imagine, this pandemic is only exacerbating the legal issues our veterans are facing.
Which is why we are still planning a gala! – just not in person.  This year, to help our veterans in need, our gala will be "held" virtually.
More details about this exciting opportunity will be posted soon. In the meantime, please email Meredith Warren at mwarren@texasbar.com with any questions you might have.
We hope you will join us in supporting our veterans.
Times like these reinforce why the Texas Access to Justice Commission is profoundly committed to removing barriers to justice and bolstering legal aid for those in desperate need.
2020 Sponsors
Champions of Justice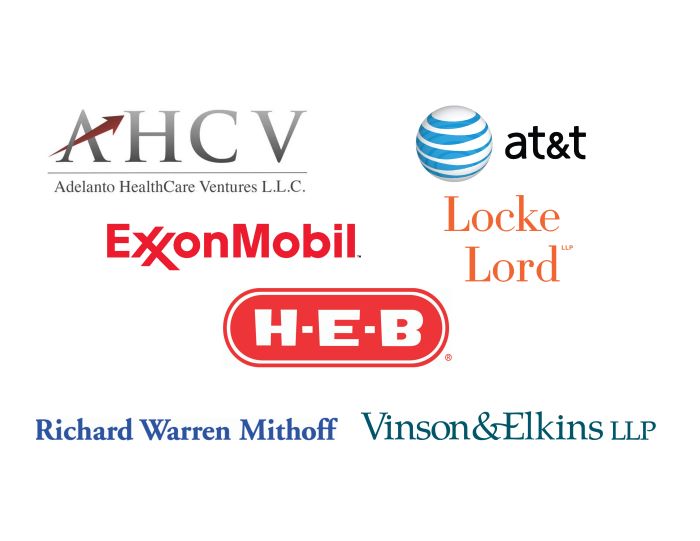 Advocates of Justice

Benefactors of Justice
Baker Botts L.L.P.
CenterPoint Energy
Chevron Corporation
King & Spalding
Kirkland & Ellis LLP
Perkins Coie LLP
Sidley Austin LLP
Patricia Villareal & Thomas Leatherbury/The Dorothea L. Leonhardt Foundation
Patrons of Justice
Alexander Dubose & Jefferson LLP
Baylor Law School
Law Offices of Frank L. Branson
Corporate Counsel Section, SBOT
Randall M. and Ricki Ebner
Gibbs & Bruns LLP 
Halliburton
Haynes and Boone, LLP
Jefferson Cano
David R. McAtee II
Harriet Miers
 National Western Life Insurance Company
Scott Douglass & McConnico LLP
Yetter Coleman LLP
Contributions of $1000 or More
Jerry and Mark Clements
Honorable Lee Yeakel IP American Inn of Court
Latham & Watkins LLP
Regina Rogers
2020 Gala Co-Chairs: 
Jerry K. Clements with Locke Lord LLP
Randall M. Ebner with Exxon Mobil Corporation
Thomas S. Leatherbury with Vinson & Elkins LLP
David R. McAtee II with AT&T Inc.
Richard W. Mithoff with the Mithoff Law Firm
Stephen C. Mount with H-E-B
Carlos M. Zaffirini, Jr. with AHCV
Harry M. Reasoner of Vinson & Elkins LLP, serves as chair of the Texas Access to Justice Commission
Host Committee Members: 
Frank L. Branson
Emma Cano
Mark Clements
Nina Cortell
Alistair B. Dawson
Ricki Ebner
 C. Timothy Fenn
Becky Baskin Ferguson
Lourdes Flores
Robin C. Gibbs
Dean Harvey
Lamont A. Jefferson
Hon. Wallace B. Jefferson
Anne M. Johnson
Roland K. Johnson
Monica Karaturi
Peter D. Keisler
Lynne Liberato
Elizabeth  E. Mack 
Michael D. Marin
 Robert E. Meadows
Harriet E. Miers
Gina Byrne Miller
David Moyer
Hon. Harriet O'Neill
Yvette Ostolaza
R. Hewitt Pate
Hon. Thomas R. Phillips
Barrett Reasoner
Regina Rogers
M. Sean Royall
Travis J. Sales
Steven E. Stein
Dean Brad Toben
Mark Trachtenberg
Patricia Villareal
Robb Voyles
Hon. Dale Wainwright
Kennon L.  Wooten
Thomas J. Williams
Paul Yetter
Angela Zambrano
Sponsors and Host Committee listing as of March 24, 2020.
For more information about sponsoring or joining our 2020 virtual event, please contact Meredith Warren at mwarren@texasbar.com.
A recap of our 2019 gala, including remarks from our keynote speaker, award winners, special guests, and the names of our gala co-chairs can be found at 2019 Champions of Justice Gala Benefiting Veterans Raises $455,050.