Monday, November 30, 2015
UPDATE | By Katherine Lochery, Program Developer
On November 16th, at the State Bar's New Lawyers Induction Ceremony, the Supreme Court of Texas and the Texas Access to Justice Commission presented one 3L student and two recent law school graduates with the Access to Justice Law Student Pro Bono Award. This prestigious award is given out annually to law students who have demonstrated an impressive and unwavering commitment to pro bono service. Nominated and endorsed by their law professors, their law school colleagues, and their supervisors at legal service organizations across the state, the winners of this award are individuals who have been identified by members of the Texas legal community as the up-and-coming leaders of the ongoing effort to increase access to justice for all Texans.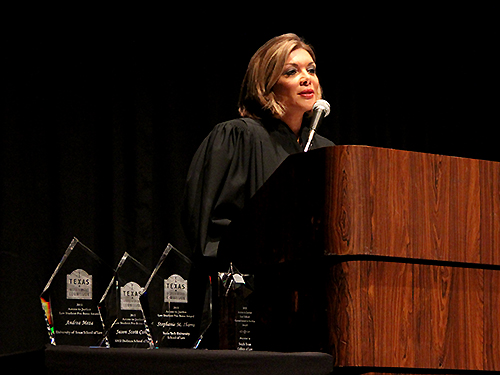 As a student at SMU's Dedman School of Law, Jason Scott Cohen demonstrated his passion for access to justice by contributing over 500 hours of pro bono assistance to the SMU Criminal Justice Clinic. This clinic provides legal representation to indigent defendants in the Dallas County Criminal Courts. Not only did Jason volunteer more hours than any other member of SMU's 2015 graduating class, but the assistance he provided has been described by SMU faculty as both rigorous and exemplary. As a 3L, Jason personally arranged for the release of a client who had spent over 90 days in jail; he secured the dismissal of charges for a client with developmental disabilities; and he arranged for a reduction in the sentence received by a terminally ill client. While the total number of law-related public service hours generated by Jason is nothing short of remarkable, what is especially impressive is that he volunteered all this time in third year, following the unexpected passing of his wife. Somehow, Jason found the ability to continue his legal education and provide exceptional assistance in the SMU Criminal Justice Clinic. Jason's extraordinary perseverance and commitment to justice – even in the aftermath of personal tragedy – has garnered the esteem and profound admiration of his fellow law students, his professors, and other members of Dallas's legal community.
Long before she decided to pursue her juris doctorate, law student Stephanie Ibarra could often be found assisting less fortunate members of her community by translating legal documents for victims of abuse and serving as a tutor to children in foster care. Once enrolled at Texas Tech's School of law, Stephanie began regularly donating her time to various legal services organizations, including the Innocence Project of Texas, the Texas Civil Rights Project, and Legal Aid of Northwest Texas (LANWT). In her 1L year alone, Stephanie donated over 100 hours of pro bono legal service. Supervisors at each placement described Stephanie as a compassionate and tireless advocate with a steadfast belief in connecting underserved individuals with affordable, essential legal resources. As a 2L, Stephanie successfully recruited her peers to help volunteer at LANWT's evening pro bono clinics and took an active role in organizing a project aimed at connecting Texas Tech Law Students with a number of legal service organizations in the Rio Grande Valley. In her final year of law school, whether through her own pro bono achievements or through her consistent support of pro bono projects both on and off campus, Stephanie continues to inspire and encourage others in her community to participate in pro bono legal service.
Andrea Meza graduated from the University of Texas Law School in 2015 having contributed 337 hours of pro bono service. During her 1L year alone, Andrea volunteered at Catholic Charities and Texas RioGrande Legal Aid, worked at UT's DACA clinics, and participated in UT's annual pro bono service trip to the Rio Grande Valley. Throughout her 2nd and 3rd year, Andrea worked on pro bono projects with organizations including Casa Marianella, the Texas Criminal Justice Coalition, and Texas Jail Project. Andrea's impact on Texas Law's public interest law community and on low-income communities extended well beyond her pro bono work. In her final year of law school, Andrea served as the co-president of Texas Law Fellowship, a student-run nonprofit that enables UT law students to intern with nonprofit organizations and increase the delivery of legal services to low-income communities. During her time at UT, Andrea was extremely committed to her work in the law school's immigration clinic and is now pursuing a career as an immigration attorney. Most recently, Andrea began an Equal Justice Works fellowship with RAICES in San Antonio, where she will coordinate and expand pro bono assistance to immigrant families in detention in Karnes, Texas.
The diverse and extensive pro bono service carried out by this year's winners stands as a testament to the positive impact that emerging young lawyers can have on both their immediate communities and throughout the state of Texas.